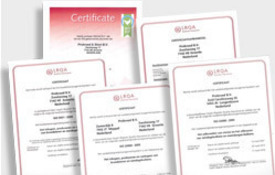 If we believe in something, we'll go for it
Quality, sustainability and innovation are top priority at Probroed & Sloot. They are a reoccurring theme in everything that we do.
Quality and safety
At Probroed & Sloot, everything focuses on the vitality of our broiler chickens.
Probroed & Sloot chickens can be traced from one coop to the next, thanks to our track-and-trace system ProKip, which we developed ourselves.
We take all necessary precautions where salmonella prevention is concerned. Together with our chain partners, we have developed a watertight system for monitoring salmonella.
We work according to the conditions of the Dutch integral chain management program IKB-KIP and we have ISO 9001-2008 and ISO 22000-2005 certificates. This means that we comply with food safety norms based on HACCP.
We supply broiler chickens that meet the requirements of Marks & Spencer, which imposes strict standards on quality, animal welfare and food safety and carries out inspections to that end.
Our partner-hatcheries in Brenz and Rosefeld enable Probroed & Sloot to meet the German 5D quality requirement.
Sustainable
At Probroed & Sloot, we are continually developing new ways of saving energy, reusing waste and reducing the environmental burden as far as possible.
An advanced system extracts the heat released during the hatchery process from the air. We can then use that heat again to continue that same hatchery process. And that certainly does save energy!
Disinfection is essential for food safety and animal welfare. To make the disinfection process as sustainable as possible, we have found an environmentally friendly alternative that is just as effective as formaldehyde.
Those are just a couple of examples of how we at Probroed & Sloot have embedded our corporate social responsibility (CSR) sustainably in our business processes.
Pioneering
The best improvements come from the people who face the issues every day. From the work floor, in other words. So good ideas are always welcome at Probroed & Sloot. This produces concrete improvements - sometimes small, sometimes larger - but always making a positive contribution to the vitality of our chickens. And if this also lowers the costs, all the better - for our customers too.
Together with the incubator manufacturer Hatch Tech, we have developed the 'HatchCare chicken' concept, a chicken of several days old. It gets is first food and water under ideal conditions, giving it an even better start in life, which translates to better yields at the farm.
Together with the supplier Pas Reform, we have developed an incubator with a motor that is 30% more energy-efficient.
A change in the pre-hatching process gives us chickens that are more vital, for lower costs.
There are 50 kilometres of piping in the ground at Groenlo. This gigantic heat exchanger provides cooling in the summer and heat in the winter.
Click here for our articles of association, which include the mission and vision statements.
Probroed & Sloot is an independent broiler hatchery operating in the poultry chain with sites in the Netherlands, Germany and Belgium. We supply chickens that stand out for their good health and high yields for the broiler farmer. We are innovative, focusing on working closely with our chain partners.