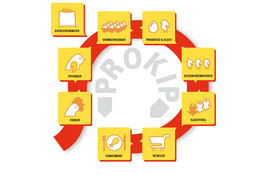 Everything to optimise the first week
We supply high-quality chickens to broiler farms. But it doesn't stop there. The chicken passport and ProKip give online information on the most recent performance data of chickens from the same breeder flock delivered to other broiler farms. Our sales team offers guidance for broiler farmers during that crucial first week, with advice about how to obtain the best results.
Broiler farmers can give feedback about the first week's results online, which we in turn use to refine our processes. This gives Probroed & Sloot broiler chickens an advantage in vitality and yield.
Probroed & Sloot is an independent broiler hatchery operating in the poultry chain with sites in the Netherlands, Germany and Belgium. We supply chickens that stand out for their good health and high yields for the broiler farmer. We are innovative, focusing on working closely with our chain partners.