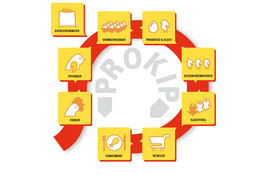 Working together on chain vitality
We believe that we can achieve more if we work together. That is why we look further than our own hatcheries and work closely with other partners in the chain. This enables us to achieve the best results.
Probroed & Sloot is an independent broiler hatchery operating in the poultry chain with sites in the Netherlands, Germany and Belgium. We supply chickens that stand out for their good health and high yields for the broiler farmer. We are innovative, focusing on working closely with our chain partners.