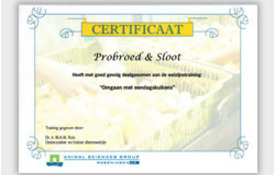 CSR in practice
Corporate social responsibility (CSR) at Probroed & Sloot is above all a matter of action. As a hatchery, we want to contribute to solutions for the growing demand throughout the world for high-quality food. We are doing this by delivering broiler chickens that stand out for their vitality and high yield, with health and welfare for humans and animals as the guiding principle.
Sustainable growth
Can we achieve more using less energy and fewer raw materials? How can we make profitable use of our waste flows and are we maximising animal welfare? Sustainability is the cornerstone of all the investments we make at Probroed & Sloot. This yields a continuous stream of practical steps for helping to protect the environment and cutting costs. Examples:
Reusing heat within the incubation process.
Disinfection with an environmentally friendly but highly effective disinfectant.
Incubators with lower energy consumption thanks to more efficient motors.
Research and development based on continuous process improvement, welfare of the broiler chickens and quality.
An inspirational employer
Probroed & Sloot provides an environment where people can work with enthusiasm and pleasure. We believe that we get the best out of our staff if we give them a chance to come up with their own ideas and put them into practice.
Our people feel involved with their work and are proud of it. Because innovations are put forward by our own people, they genuinely do result in better processes and healthier broiler chickens.
Probroed & Sloot is an independent broiler hatchery operating in the poultry chain with sites in the Netherlands, Germany and Belgium. We supply chickens that stand out for their good health and high yields for the broiler farmer. We are innovative, focusing on working closely with our chain partners.