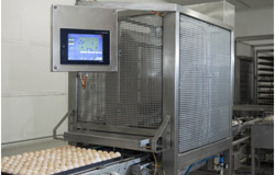 Why our broilers are always one step ahead
How can we give our chickens a head start, making them more vital and able to thrive better at the broiler farm? At Probroed & Sloot, this is a question we ask ourselves every day.
This question drives us to make innovations, both large and small. Not only in our own processes, but also in the chain within which we operate, because we are aware that the greatest improvements are made together with our partners, each using their own expertise.
A few examples
Track & Trace. Together with our chain partners, we have made sure that every single Probroed & Sloot broiler chicken is fully traceable, from the egg at the breeder farm to the coop at the broiler farm.
The poultry passports of our broiler chickens state not only their origin, but also the results of broilers previously delivered from the same breeding flock. Our broiler farmers will soon be able to give us feedback on this data through our exchange platform, ProKip.
A 'HatchCare chicken' is a broiler of several days old, that gets its first feed and water after hatching under ideal conditions. This produces stronger chickens.
High reliability deliveries and top quality are guaranteed by our hatcheries in the Netherlands and our partner-hatcheries in Germany because the hatchery managers are always swapping knowledge and experiences.
Our in-house R&D department develops and tests process improvements that result in greater vitality and higher quality. Probroed & Sloot is always working on improvements.
Healthy broiler chickens
These innovations have a clear objective: even greater vitality for the chickens, with all the benefits that brings:
Fewer losses in the first week.
Better growth.
Reduced consumption of antibiotics downstream in the chain - important for human and animal health.
So we are working every day on better ways of giving our day-old chickens a head start.
Probroed & Sloot is an independent broiler hatchery operating in the poultry chain with sites in the Netherlands, Germany and Belgium. We supply chickens that stand out for their good health and high yields for the broiler farmer. We are innovative, focusing on working closely with our chain partners.