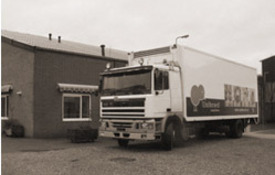 Cooperation is in our DNA
The roots of Probroed & Sloot are in the Netherlands. The guideline in this success story has been cooperation in everyone's interests.
More than 90 years of experience
Probroed & Sloot is an independent specialist in broiler chickens, with more than 90 years of experience in incubating, now backed up by ultra-modern hatcheries. A key point is the desire to cooperate in everyone's interest: greater vitality and better results for breeder farmers, broiler farmers and poultry processing plants, for the benefit of humans and animals.
A history based on three hatcheries in the Netherlands
1928 Startup of the Wormgoor chicken hatchery, later known as the Sloot hatchery.
1935 The Pluvebo chicken hatchery started up in Groenlo, which would later continue under the name
Cobroed after a merger.
1948 Pronks Broederij in Meppel started up, gradually growing to become a hyper-modern hatchery
for day-old chickens.
2005 Cobroed and Sloot decide on a merger under the name Cobroed & Sloot.
2007 A merger between Pronks Broederij and Cobroed & Sloot produced Probroed & Sloot.
2011 Probroed & Sloot took over the Unibroed-van Lith chicken hatchery in Langenboom.
Probroed & Sloot is an independent broiler hatchery operating in the poultry chain with sites in the Netherlands, Germany and Belgium. We supply chickens that stand out for their good health and high yields for the broiler farmer. We are innovative, focusing on working closely with our chain partners.