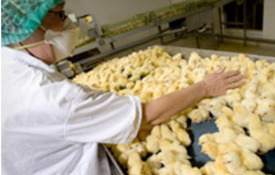 Probroed & Sloot staff are professionals
At Probroed & Sloot, quality is a top priority. Quality in terms of strong and healthy chickens, sustainable business practices, and innovative solutions that improve yields. Our people are the cornerstone of this quality. Well-trained, experienced and well-motivated employees, every one of them. Professionals who can create a good working ambience, take training opportunities at once and know better than anyone else that cooperating produces better results than an 'every man for himself' approach - whether for drawing up the plans, incubating chickens or helping the breeder farmers and the broiler farmers.
Cooperation and profit
The art of cooperating and our ongoing efforts to produce the best quality can benefit the chain partners too. Our field service specialists, for example, provide intensive guidance for both breeders (egg suppliers) and broiler farmers, from the latest performance data to vitality recommendations for the crucial first week. They can give the chickens a flying start, which improves the yields for the entire chain.
Probroed & Sloot is an independent broiler hatchery operating in the poultry chain with sites in the Netherlands, Germany and Belgium. We supply chickens that stand out for their good health and high yields for the broiler farmer. We are innovative, focusing on working closely with our chain partners.