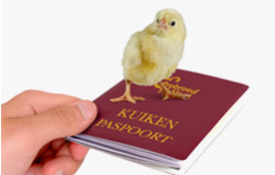 That's how we improve vitality
Healthy chickens in a healthy chain. That's what it's all about. Cooperation is the path to achieving this goal. Our position as a hatchery enables us to cooperate actively with other parties in the broiler chicken chain.
We are always open to ideas for cooperation, respecting the independence of our partners.
The specialist for a healthy first week
What does that mean in practice? Our own field service department provides intensive guidance for broiler farmers before and during the first week of the growing period.
From the moment that the broiler farmers place the order, they are able to see the latest performance and vitality data for our chickens. Moreover, our specialists give advice about the optimum living conditions for the chickens that will be delivered. The aim: to give our chickens the best possible start during the first week.
The first chicken with a passport
Since 2003, all day-old broiler chickens from Probroed & Sloot have had a chicken passport. This gives important details about their vitality:
Origin, age and breed of the breeders.
Vaccinations.
Performance data.
First week mortality of previous hatches originating from same breeder flocks.
This enables broiler farmers to prepare as well as possible, even before our own driver delivers the chickens.
R&D in the vanguard
Standing still is a step backwards. That is why Probroed & Sloot is continually investing in the welfare of its chickens and in their vitality and quality. Research and development are at the forefront.
Hatchery managers exchange knowledge
Our hatchery managers are continually in contact with each other and keep each other on their toes. For instance, we regularly incubate a batch of eggs from a single supplier at our various different hatcheries to compare the incubating results with each other. No matter which (partner)hatchery the chickens come from, optimum vitality is assured.
In short, we want to be an indispensable specialist for our broiler farmers for that crucial first week. Everything for a healthy head start!
Probroed & Sloot is an independent broiler hatchery operating in the poultry chain with sites in the Netherlands, Germany and Belgium. We supply chickens that stand out for their good health and high yields for the broiler farmer. We are innovative, focusing on working closely with our chain partners.