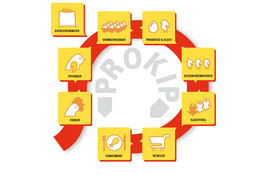 Cooperation with chain partners
Our field service department exchanges crucial information about our broiler chickens with the feed suppliers and vets. This enables both partners to fine-tune their recommendations to broiler farmers resulting in better vitality of our chickens, even before they arrive. This has allowed us to work closely together with various leading feed suppliers, and we are without any doubt ready to cooperate with other suppliers too.
Responding to market developments
Probroed & Sloot also works closely with the poultry processing plants. Our larger scale and our flexibility mean that we are a key partner in the development of new concepts and integral approaches. Each of us is then able to use our own independent perspective and expertise to strengthen our links with broiler farmers. The successful free-range concept in the Netherlands (Volwaard) is a prime example of how Probroed & Sloot actively participates in setting up new concepts.
Probroed & Sloot is well able to use its partners hatchery capacity in Germany to meet the 5D requirement, thereby meeting growing demand from the German retail market.
Probroed & Sloot is an independent broiler hatchery operating in the poultry chain with sites in the Netherlands, Germany and Belgium. We supply chickens that stand out for their good health and high yields for the broiler farmer. We are innovative, focusing on working closely with our chain partners.